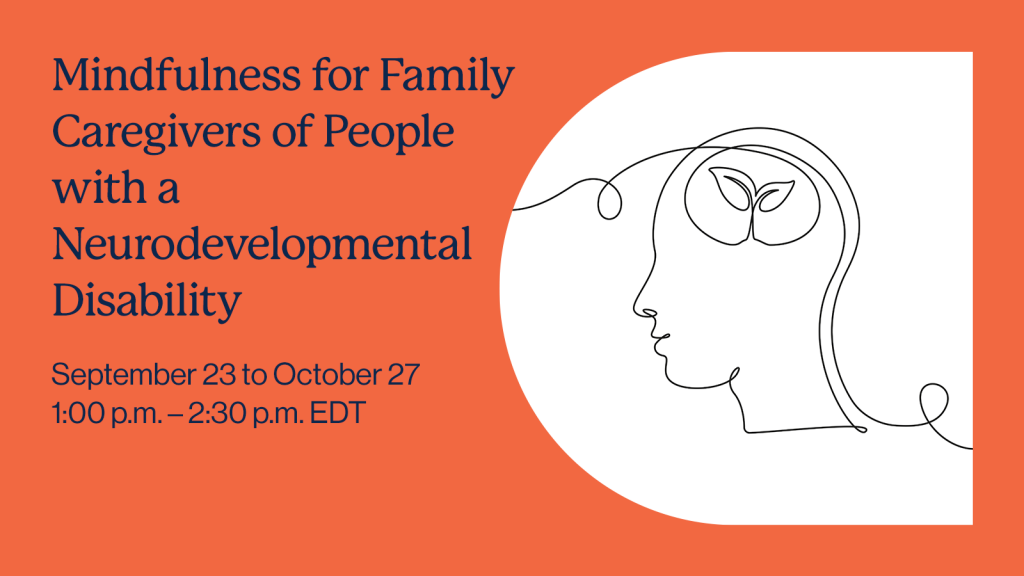 As part of their commitment to support the health and wellness of caregivers in Canada, the Canadian Centre for Caregiving Excellence is working with the Centre for Addiction and Mental Health (CAMH) Azrieli Adult Neurodevelopmental Centre to offer a six-week mindfulness program to learn and practice mindfulness skills for family caregivers to people with neurodevelopmental disabilities.
The program will be led by Sue Hutton, a mindfulness teacher with over 30 years of experience. The weekly sessions are designed for participants to learn and practice mindfulness skills to reduce stress and improve their quality of life.
Sessions will be held weekly over a six-week period, beginning Friday, September 23, 2022.
About the program
Starting September 23, Sue will host a weekly 90-minute virtual session over a six-week period. Registrants will receive:
Six 90-minute virtual group sessions by mindfulness teacher Sue Hutton
Audio links to short and accessible mindfulness practice specifically for family caregivers
Digital workbooks, literature and support materials.
Weekly email with reminders for home practice
Registration is required. Participants can join in a way that is comfortable for them. Being on camera is optional.
About the Canadian Centre for Caregiving Excellence
The Canadian Centre for Caregiving Excellence (CCCE) is an initiative of the Azrieli Foundation to support and empower family caregivers and care providers across Canada. We bring together stakeholders from across the country, translate knowledge to practice, scale what works and fill gaps through innovation. We are guided by four focus areas: support networks and knowledge sharing; education and leadership development; advocacy and policy development; and inclusion and underserved communities. Our expertise and insight, drawn from lived experiences, help us campaign for better systems and lasting change. We work closely with our partners and grantees towards shared goals and better experiences for all those who provide care.