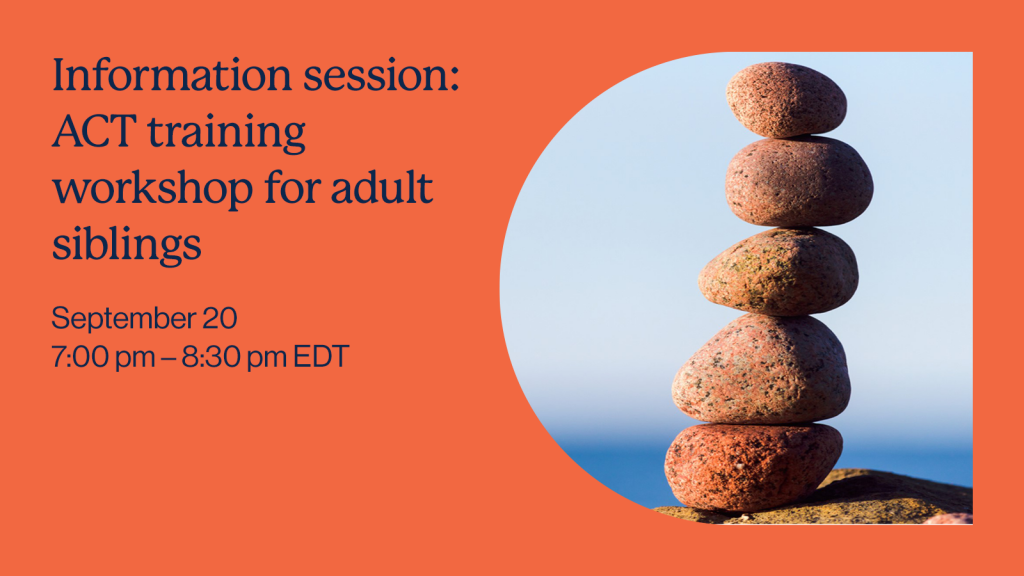 September 20, 2022
7:00 pm – 8:30 pm EDT
Virtual webinar
This information session will provide an overview of Acceptance and Commitment Therapy (ACT) training for adult siblings (18+) of a person with an intellectual disability or autism.
ACT can help siblings better manage difficult feelings and life events by learning to connect with themselves mindfully and respectfully.
The Centre for Addiction and Mental Health (CAMH), Kids Brain Health Network and Siblings Canada (an initiative of the Canadian Centre for Caregiving Excellence) will be offering a six-week ACT workshop for siblings, beginning October 25, 2022. This information session is an opportunity for potential participants to learn more about the workshop.
The information session and ACT training workshop are open to siblings from across Canada.
About the Canadian Centre for Caregiving Excellence
The Canadian Centre for Caregiving Excellence (CCCE) is an initiative of the Azrieli Foundation to support and empower family caregivers and care providers across Canada. We bring together stakeholders from across the country, translate knowledge to practice, scale what works and fill gaps through innovation. We are guided by four focus areas: support networks and knowledge sharing; education and leadership development; advocacy and policy development; and inclusion and underserved communities. Our expertise and insight, drawn from lived experiences, help us campaign for better systems and lasting change. We work closely with our partners and grantees towards shared goals and better experiences for all those who provide care.