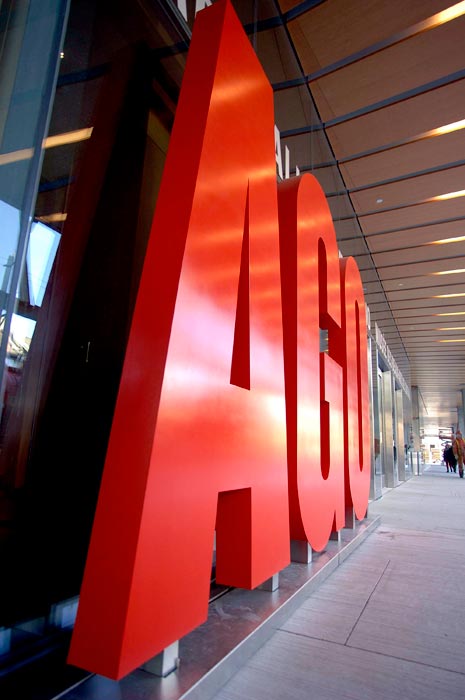 The AGO is a large gallery with all kinds of works of art from all over the world and right here in Canada and Toronto. Expect to be challenged to think about the world we live in by experimental contemporary artists from Canada and the world. There is something for everyone.
The AGO welcomes everyone. We like to talk about our collection, but we also enjoy hearing what you think too, because art affects everyone in a different way, and the AGO is your gallery. No matter who you are or where you are from, everyone has something important and interesting to say about the art. Here are a few tips to make sure you get the most out of your visit to the AGO:
Where is the AGO?
The AGO is located at 317 Dundas Street West. You can get to it using the Dundas Street car, or by walking west from St. Patrick's subway station.
When can I visit, and what is the cost?
The gallery is open Tuesday to Sunday, 10:30am – 5pm, except for Wednesday when it's open to 8:30 pm.
Click here for admission information . On Wednesdays, the gallery's permanent collection is FREE from 6:00 pm – 8:30 pm (Wednesday evenings can be very busy!)
What can I do at the AGO?
Make your own (self-guided) tour. FREE maps are available at the front desk to help you plan what you want to see.
Join a FREE guided tour with one of our Gallery Guides. Mini-tours are 30 minutes, and occur daily at 11:30 am and 2:30 pm. Highlight tours are 1 hour, and occur daily at 1 pm. Tours begin in Walker Court. Occasionally, there are special tours at the AGO. Click here for more information on the special tours .
Do you like to sketch or draw? Bring a notebook and a pencil and draw what you see or create your own original pieces.
Explore, explore, explore. We are always getting new exhibits, and adding to our collection, so there is always something new to see at the AGO. Click here to find out about new exhibits at the AGO .
A trip to the AGO isn't just about the pictures on the walls or the sculptures on the floor; there is so much more to see and do.
Here are some suggestions to get you started: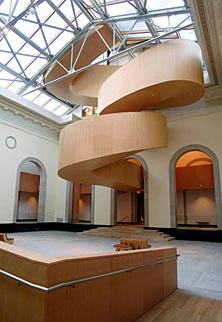 City watching: the AGO has incredible views of the city. From the light and airy Galleria Italia, you can look down on Dundas Street West and watch the streetcars and people go by. You can also walk up to the fifth floor and get a birds-eye view of Toronto from the staircase.
Relaxing and thinking: the AGO is full of open, airy, well-lit spaces that are perfect for relaxation. Have a seat on one of our comfortable chairs and rest as you watch other visitors go by.
Experiencing: many visitors come to the AGO to see the building and its interesting spaces. Take a close look at the architecture of Galleria Italia and Walker Court, and wind your way up and down our twisting staircases.
Shopping: visit the AGO's shop for interesting items and art books. You do not need a ticket to visit the shop.
Programming: Sometimes, the AGO puts on special events. These include artists' talks, art classes, or special exhibitions. Often, there is an extra cost associated with these special events. Click here to learn more about special events at the AGO .
Eating: if you get hungry while you're at the AGO, there are many places to eat:

CaféAGO, for smaller foods, at the concourse level. There is no set menu, but the café usually has cookies, muffins, salads, sandwiches, and beverages. You do not need a ticket to the AGO to visit caféAGO.
Espresso Bar, for light refreshments. There is no set menu, but coffee, tea, and light snacks are for sale. The Espresso Bar is located on the 5th floor and has incredible views of the city. You do need a ticket to the AGO to visit the Espresso Bar.
If you'd like to bring your own food, you can eat it in the Community Gallery Lunchroom, which is on the concourse level, in between caféAGO and the Thomson Ship gallery. Food can't go into the galleries, but we can hold on to your food for FREE at the coat check until you're ready to eat in the Community Gallery Lunchroom.
FRANK restaurant, located at street level. Click here to view prices and menus . You do not need a ticket to the AGO to visit FRANK.
How can I help protect the art?
Art – whether it's paintings, drawings, or sculptures – is very delicate and often very old. We have a team of employees who protect the art, but we need your help in setting a good example for other visitors. There are a few things to remember about visiting the gallery.
Things that can hurt the art:
Fingers and hands: we have invisible oils on our skin and touching the paintings or sculptures will cause damage.
Backpacks: people often forget they are wearing a backpack, and can accidentally back into a painting or sculpture and damage it. Backpacks need to stay out of the galleries, but you can leave them for FREE at the coat check, and pick them up when you're finished your visit.
Bags: small bags are allowed into the gallery, but if they measure larger than 14 inches x 14 inches x 6 inches, they can't go into the galleries. You can leave it for FREE at the coat check.
Coats: there is no dress code at the AGO, and coats are allowed in the galleries. However, to make your visit more comfortable, you can leave your coat at the coat check if you want. It costs $1.00 to leave your coat at the coat check.
Umbrellas: Large umbrellas cannot go in the galleries. You can leave your umbrella for FREE at the coat check, or bring a small one that fits into a pocket or small bag.
Food: food can be messy, and it can attract bugs and small rodents. Food can't go into the galleries, but there are lots of places to eat in the AGO (we'll talk more about this below). You can leave your food for FREE at the coat check.
Drinks: like food, drinks also attract bugs and small rodents, and people can slip and fall if liquids are spilled. Drinks can't go in the galleries, but there are water fountains all over the building.
Photographs: photos cannot be taken in the galleries, but you can take pictures of Walker Court and Galleria Italia.
If I have a question while at the AGO, who can help me?
Gallery Guides: if you want to know more about a painting or a sculpture, you can ask a Gallery Guide. Gallery Guides are all over the AGO, and they love to talk to visitors about the art. You can find them by the orange lanyard they wear around their neck.
Information Guides: if you have questions about the architecture, or need help in finding your way around the AGO, you can speak with an Information Guide. Information Guides also wear an orange lanyard around their neck.
Security Officers (PSOs): make sure the art and AGO's visitors stay safe. They can also help you if you are looking for something at the AGO. They wear a grey suit and a blue shirt.
AGO staff: you can talk to any member of AGO staff if you have a question. AGO staff wear a blue lanyard around their necks.
We also love to hear from our visitors before or after their visit, so please contact us if you have any questions or concerns! Click here for our contact information .
Is the AGO accessible?