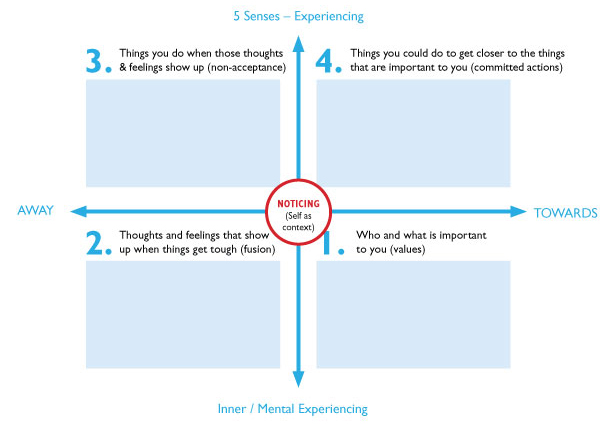 Trudy Is a 36-year-old single mom with two children. She works shifts in a long-term care facility as a nurse and then comes home to take care of her 14 and 15-year-old girls along with all the household chores that need to be done daily.
She finds herself to be over tired, endlessly agitated with her daughters, and just fed up with the constant cleaning at home. She dreads getting home at the end of her shift and recognizes that this is something that she needs to work on.
Through work, she has learned about ACT and decides to complete the ACT Matrix to get a better understanding of what she Is feeling and how to move in the right direction.
Who and what is important to you (values)
Spending quality time with my daughters
Being healthy
Spending time with friends
My family
My dogs
Being a good person
Being a happy person
Now that Trudy has identified her values, she is now considering what thoughts and feelings she has when the going gets rough. This has been occurring a lot of late and so she quickly notes all the negative thoughts she has been having.
Thoughts and feelings that show up when things get tough (fusion)
My daughters are hiding from me because they hate me
I'm lazy
No one likes being around me
I annoy everyone
I'm overbearing
Now Trudy focuses on what actions she takes when she feels these thoughts. What are the actual behaviours she exhibits when these thoughts take over her brain. She finds these actions difficult to write down. It Is quite an emotional experience.
Things you do when those thoughts and feelings show up (non-acceptance)
Go to bed
Watch a lot of TV
Stay home instead of going out
Don't talk to my daughters or
Get frustrated with my daughters
Cry
Next Trudy Identifies the behaviours that will bring her towards her values. She thinks about those things that she wishes would happen naturally. How It would feel to be relaxed coming home? What would make her more relaxed? What would be an Ideal day? Week? This really helps her to Identify how to fill in the next quadrant.
Things you could do to get closer to the things that are important to you (committed actions)
Ask my daughters for help with chores
Do fun activities with my daughters
Eat a meal with my daughters
Go for walks with the dogs
Get enough sleep
Set time aside to see friends each week
Enjoy moments of peacefulness
Integrating ACT and the Matrix into Everyday Life
Now you may be wondering, what do I do with all this information?
Trudy takes a picture of the matrix so that she can view It on her phone at any time. Even If she Is having a good day, she looks at It to confirm for herself that she Is committing to the actions she made to move towards her values. There Is much more to learn but this has been a great start to Improving her quality of life.
Step 1: Fill out the ACT Matrix
Step 2: Post it
Step 3: Notice your thoughts and behaviours
Step 4: Refer to the posted Matrix
Step 5: Choose to pivot towards what matters
Once you have filled it out, you can post it in an accessible location at your office or home. Whenever you notice that you are having unwanted thoughts or feelings or engaging in a behaviour that is moving you away from your values, refer to your posted Matrix to help you pivot towards what matters to you.
This is also a great time to start practicing mindfulness, which is an exercise widely used in ACT. Mindfulness is the act of purposefully observing, without judgment or struggle, your life as it is happening in the present moment.