720 Bathurst Street, Toronto, ON, Canada
720 Bathurst Street
Toronto
Ontario
M5S 2R4
CA
What exactly are Dream Weavers 1:1 Sessions?
As registered occupational therapists, the entire Dream Weavers team offer private 1:1 sessions for teens and young adults with autism, developmental differences, and other disabilities. These sessions are great for those who are looking for a more personalized approach and want to work on individual goals related to employment skills, and/or life skills (sample topics below).
How often and when do the sessions occur?
Sessions occur weekly or biweekly, depending on member preference, and the types of goals you would like to work on. The exact timing is discussed, depending on your/ our availability.
When can they start?
As soon as you would like! Just contact us and we can discuss when we are able to start.
Where do they take place?
Sessions usually occur at The Centre for Social Innovation (CSI-Annex – 720 Bathurst Street) – but our OTs may also be able to travel to your home or community (depending on the distance), if this is more convenient. Please note that travel fees apply.
*** Note: During the pandemic, ALL of our services are being offered virtually *** 
1:1 Occupational Therapy sessions cover both life & employment skills topics such as:​
Time management
Social Skills
Problem solving
Independent Living
Sexuality & relationships
Healthy eating & nutrition
Team work
Budgeting
Navigating family dynamics
Finding & applying for a job/ volunteer position
Creating a resume/ cover letter
Asking for on-the-job or academic accommodations
Workplace social skills
Issues around disclosing a disability
Interview practice
What are the costs?
$95.00/session
If cost is an issue, please contact us, we are open to sliding scale options in special situations.
What is included in a session?
50 minutes of face-to-face time with your assigned OT on a weekly or biweekly basis
Short check-ins between sessions with member and member's circle of care (as needed) via email, or phone
Basic job development/liaising with community resources on behalf of member between sessions (as needed)
***Please note that in-depth research, support, and communication between sessions costs an additional fee, please inquire for details!***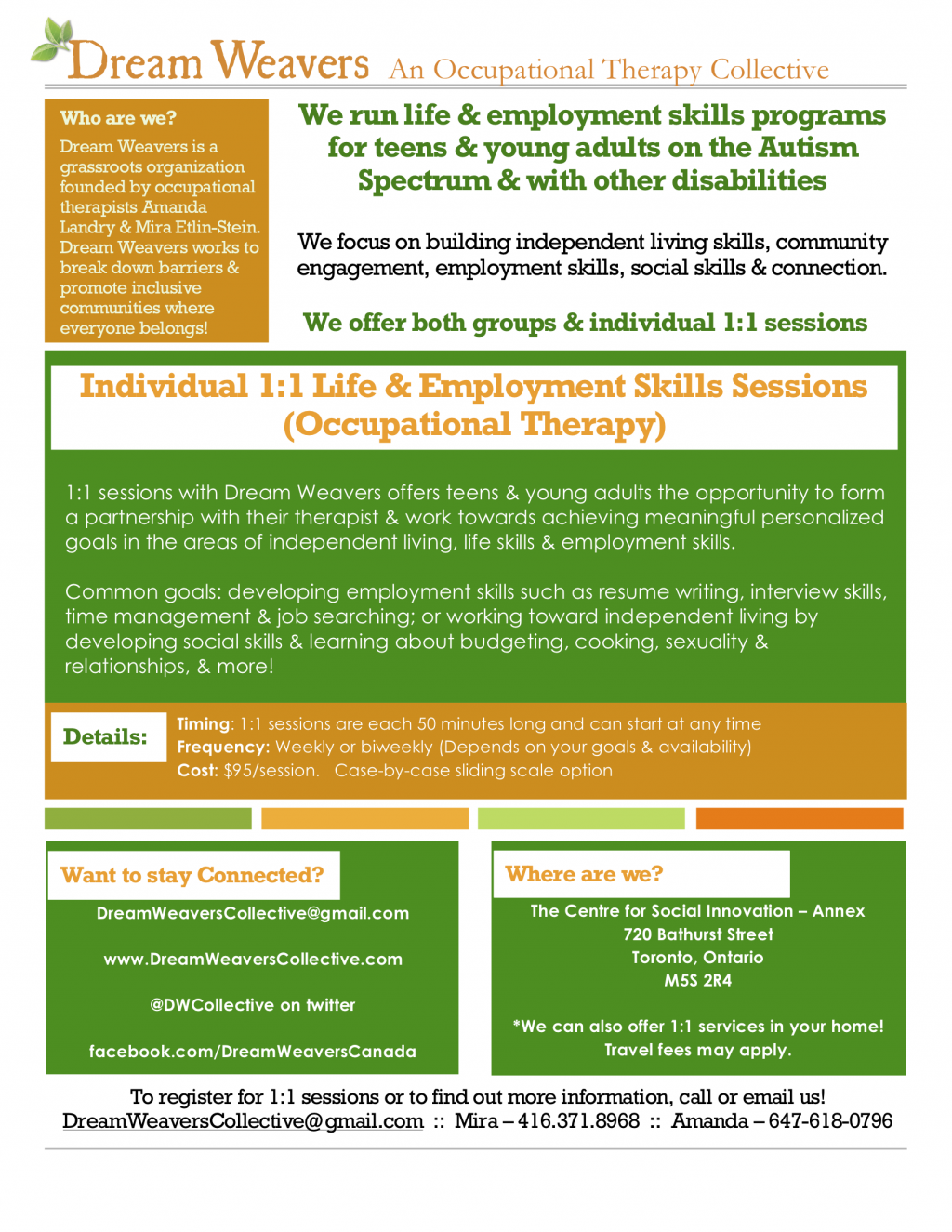 Dream Weavers: An Occupational Therapy Collective
Dream Weavers is a grassroots downtown Toronto organization that serves teens & young adults on the Autism Spectrum and with other disabilities. We aim to break down barriers and build inclusion through offering both group programs and 1:1 private sessions in the area of life & employment skills. Dream Weavers was founded by two occupational therapists, Amanda Landry & Mira Etlin-Stein.