151 Nashdene Road, Scarborough, ON M1V 4C4, Canada
58 Markham Road
Toronto
Ontario
M1X
CA
The DAILI (Differently Abled Independent Living Initiative) Program utilizes professionals in order to provide support services for our clients, one-on-one, including training individuals with mental and physical challenges to perform day-to-day functions and engage in occupational and recreational activities.
Workshops:
Living Skills
Communication
Literacy
Financial Management
Fine Motor Skills Development
Social Living Skills
Fitness
Arts & Crafts
Music & Dance
Languages supported in the program: Tamil & English
Program hours: Monday to Friday 9:00 AM to 2:00 PM
Program Contact: Arani Tharmalingam 647-545-5145
Fees: $500 per month for those with passport funding. (ATI Foundation will cover 50% of the costs for those without the financial support)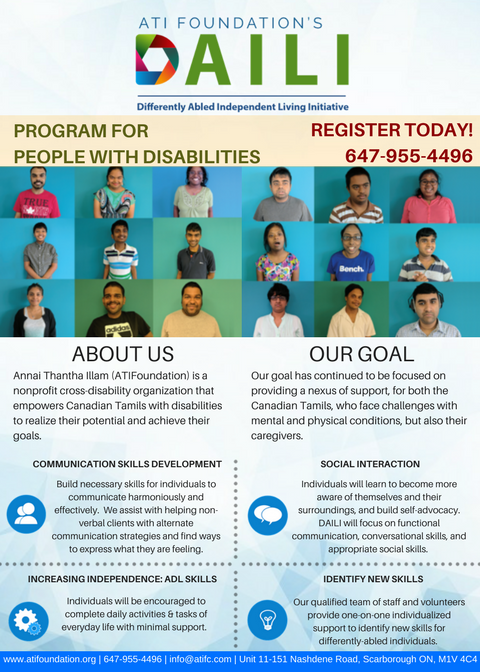 ATI Foundation stands for, "Annai Thantha Illam", which is a Tamil phrase that translates literally to "a home provided by the mother". Our goal is to provide the same level of care, support, and services for our clients that is provided from our own mothers. We are a nonprofit cross-disability organization that empowers Canadian Tamils with disabilities to realize their potential and achieve their goals. Our mission has continued to be focused on providing a nexus of support for both the Canadian Tamils, who face challenges with mental and physical conditions, but also their caregivers, who are often in need of respite and supportive care. Parents of children with special needs tend to be faced with endless bombardment of challenges from societal isolation, financial strain, difficulty finding resources, to outright feelings of being burnt out, especially in a community with cultural and language issues that may hamper access to community services. We hope to continue developing programs and initiatives that help minimize these systematic barriers.