Recommended size – 1 to 2 images per pages or 6 to 12 for toy bins and shelves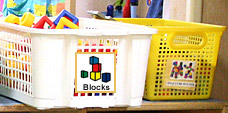 Labels provide information about where to find items or activities. Labels help build independence. Use labels for different rooms or areas in a room such as the child's bedroom at home or the dramatic play centre in the classroom.
Label both the toys, bins and items around the room. Also label their place on the shelves to help your child find the toy or item and return it to the right place.
For more information:
Tips sheet – Using Visuals
Workshop – Visual Communication
Recommended Templates
1 image/page
2 images/page
6 images/page
12 images/page