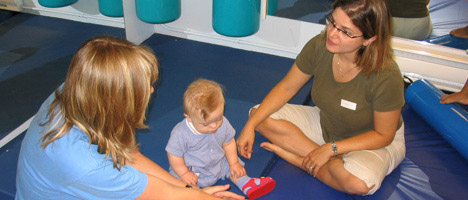 Professionals may become involved with your child for a number of reasons. In getting to know your child and family, they may gather information to carry out an assessment, develop a service plan, and set goals.
Here are some examples of professionals you may encounter:
Developmental Pediatrician or Psychologist (a physician who carries out assessments and may diagnose your child).
Specialized trained professional such as Speech and Language Pathologist, Occupational Therapist, and Behaviour Therapist.
A Special Needs Resource Consultant providing support to your child's child care centre.
The special needs resource team connected with your child's school.
Home-based child development professionals such as a Public Health Nurse, and Infant Development Home Visitors.
Representatives from government funding offices (e.g., Special Services at Home Program, Assistance for Children with Severe Disabilities).
In most cases, you'll find that the professionals you are dealing with are understanding and really want to help. If you're well prepared and have some understanding of what they need, you can get the most out of their involvement.
Here's a list of information that is important to collect and share with professionals:
The Child Information Binder – create a binder or booklet that contains your child's photograph, information specific to your child's strengths, interests and needs, and a list of professionals involved with your child. Check out the For More Information box at the end of this document for further details.
Previous assessment reports written by other professionals. Always ask for copies of reports written about your child. Professionals should also provide you with information on the activities and exercises that they have created to help your child develop his skills.
Contact information about services your child is currently receiving.
Contact information about services for which your child is waiting.
Questions you would like to have answered.
Some professional may ask for information about your child's health history, behaviour at home and in group settings, and skills. Some of their questions about your family or finances may seem very personal. You can choose not to answer questions you find personal or intrusive. If you feel uncomfortable providing certain information, ask why it is required and how it will be used to benefit your child. Once you know how the information will be used, you can decide whether you would like to share it.
What is "Informed Consent"?
As we mentioned earlier, professionals may ask you for personal information about your child and family, and other people or agencies that are providing support.
Many professionals will want to speak with, or share written information with these other people or agencies. Each professional will ask you to sign a form that gives legal "consent to release information". The term "consent" acknowledges that you as a parent (or legal guardian) have the authority to allow a professional to share information with another party on behalf of your child for a specific purpose. In other words, it's like giving permission for professionals to share information with each other about your child.
Before you give "consent", it is important for you to be informed about:
the kind of information that will be exchanged and collected (e.g., name of reports)
how it will be collected and stored (e.g., photocopied, kept in child's file)
the purpose for sharing this information (e.g., to set goals, to apply for funding)
the benefits and risks involved
whether your signed consent can be revoked or cancelled at any time, or does it have an expiry date
Remember – Only sign consent forms when you are sure you understand.
In some situations confidential and private information can be released to a third party without a parent's consent. This may include, but is not limited to:
Emergency situations involving the health and safety of your child (e.g., police, hospital, or medical staff).
Mandatory reporting situations (e.g., Child protection agencies, Court Order or Search Warrant, Legal Counsel).
You will find that most professionals are interested in learning as much as they can because they want to support you and your child in the best way possible. Meeting and sharing information on a regular basis will make it easier to develop the programming that best meets your child's individual needs and maintain your role as the main decision maker for your child.