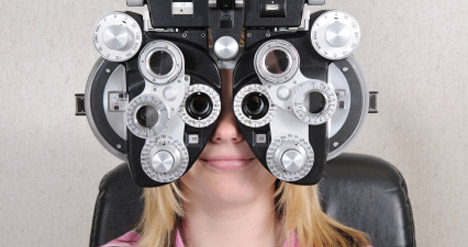 What is vision assessment?
A vision assessment is an organized procedure for gathering information about the health and function of the vision system. Assessments can be done at home, school, and during regular examinations with the doctor. A child with a known visual impairment should be assessed by a paediatric ophthalmologist, a teacher for the visually impaired and an orientation/mobility specialist. Observations made by caregivers and the above mentioned specialists are a very important piece of the assessment.
Why assess?
To understand how the child uses vision to gather information.
To share information with family, friends, and other professionals working with the child.
To promote development based on the findings of the vision assessment.
To determine whether the child will learn more effectively through auditory, print or tactile media.
To evaluate the child's ability to move safely in the environment.
To determine whether a child is eligible for services.
What information is needed?
Parents and caregivers observations provide valuable information that helps interpret a child's use of vision. Family members and caregivers have the greatest opportunity to observe children over time and in a comprehensive way. Research shows that families' observations of their children have been accurate even when those observations contradict
formal testing results.
The child's medical history is an important part of the assessment. Medical issues such as seizures, motor impairments, respiratory difficulties and other health issues may affect the child's functioning and ability to see. Medications have side effects, such as blurred vision, that could affect the final outcome of a vision assessment. Medications may also affect the child's responsiveness, including visual function.
How to assess?
Many professionals use a variety of tests to assess vision. Vision information from each child will determine the tests and methods used. Before decisions are made about evaluation methods and materials, it is important to establish the following:
What the family and others familiar with the child have observed.
Materials and activities used in the assessment are developmentally appropriate for the child.
Materials and activities are of interest to the child.
Whether the child requires extra time to respond.
It is important to observe the child in familiar and unfamiliar settings.
The diagnosis of some eye conditions is dependent on the use of additional tests such as:
MRI (Magnetic Resonance Imaging) examines soft tissue structures inside the body not seen with X-Rays.
CT Scan (Computerized Axial Tomography) creates pictures of cross sections of the body. These images of tissues are produced by passing X-Ray beams at various angles through the area of the body to be studied.
Lighting and Illumination: type of light, the intensity and position of the light and the child's adaptation to light and glare are important considerations. Some children require strong, bright lights and can see better when the light is positioned at specific angles. Others may be sensitive to light.
Questions for the Ophthalmologist
A visit to the ophthalmologist can be busy and overwhelming for everyone. It is helpful for families to have some or all of the following questions ahead of time.
What caused my child's vision problem?
Is the eye condition hereditary?
Is my child's condition stable?
Is there any surgery that would help my child's vision?
Should there be restrictions on my child's activities?
Will glasses or contact lenses help? If so, how much will they help?
Will low vision aids help when my child is a little older?
What is my child's best viewing distance?
How does the eye condition affect my child's mobility?
Are my child's eyes sensitive to light?
What kind of lighting will help my child?
Glossary
Optometrist: A licensed specialist (O.D.) trained to examine eyes and related structures to determine vision problems. S/he may prescribe eyeglasses, contact lenses, or other vision aids.
Orientation and Mobility Specialist: A teacher trained to teach people who are visually impaired how to move safely around the environment.
Paediatric Ophthalmologist: A medical doctor (M.D.) who specializes in treating children's diseases of the eye. This doctor may perform surgery or prescribe other types of treatment, including eye glasses and contact lenses.
Resources:
INSITE MANUAL (1988). Ski-Hi Institute, Logan, Utah. Topic 4, p.35.
Coleman, J. (1993). The Early Intervention Dictionary Woodbine House, Bethesda, Maryland