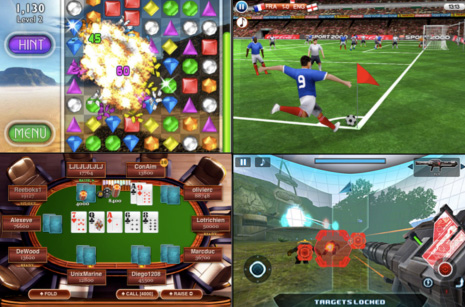 Internet or online gaming is becoming a common activity, especially with young adults. They can be played on your computer, on a portable device such as an Ipod, or using a gaming consol such as a Playstation or X-Box. Online gaming can refer to many types of interactions online including:
Board Games/Puzzles:
These usually involve playing alone, against a pre-programmed computer opponent, or against real people via the internet. They are animated versions of traditional and favorite board games or puzzles.
Gambling/Casio:
Casino sites are typically for adults only (ages 18 or older). Most offer free games that allow you to practice various games that you would find at a real Casino (i.e. Roulette, Black Jack, Poker). They usually offer players a chance to bet real money by using a credit card.
(Standard) Video Games:
Video games typically include sports, action/adventure, simulators (i.e. flight simulators, driving games), and shooting games. These games typically tell a story or involve an objective that the player is trying to achieve. Video games vary in content from stories that appeal to all ages, to adult content not suitable for children. Many of these games can be played alone, against a computer opponent, or against actual people via the internet.
Role Playing/Multiplayer:
Multiplayer games are a more intricate form of video game, involving an entire virtual "universe" created around many different games to be played within a specific environment. Some multiplayer games are based in fantasy, such as science fiction or "dungeons and dragons" types of environments; others are based upon real life. Whether it is a beach or a space station, these games allow people to pretend they are interacting in environments that they normally would be unable to spend time in. They also allow the player to create a character that is unique and personalized.
Positive outcomes of Online Gaming:
Communication:
Most online gaming that involves playing with other people, also involves communication. Most games involve a way to "chat" with one another by sending written information back and forth – similar to having a written conversation with someone. Communication can also include using a headset. A headset allows you to physically talk to someone while you play, and hear what they have to say as well.
Social:
Online gaming provides an opportunity for people to socialize. People can interact and meet new people. For example, you can play checkers and "chat" with someone who lives in an entirely different country than you – all from the comfort of your living room.
Challenge:
Many games offer challenges and objectives for you to overcome. They make you think in different ways, and challenge the player to play the game more accurately.
Fun and Excitement:
This is the primary purpose of video games and multiplayer games. They allow you to pretend you are a different person, and pretend you are in new and exciting places, and in unique situations.
Safety Tips for Online Gaming:
Online gaming can be a fun hobby. Playing against other people can be an exciting experience, yet like any other online resource, there are some things you need to remember to ensure your safety.
One of the best ways to stay safe is to maintain an ongoing open dialogue about what you are doing on the internet with someone you trust. This could be a parent, a staff, a friend or a volunteer. Someone else may be able to point out safety concerns that you did not think of or were not aware of. Talk about where you are going on the internet – the websites, the chat rooms, the game sites that you are going to, the people you are chatting with and the types of conversations you are having.
Here are some other tips that will help ensure you are being safe while gaming:
NEVER give your credit card number out to an unknown website or service. Many gaming services require payment – only provide this information if you know that you have the money to pay for their service, and that you are giving it to the correct company
Recurring payments – it is common for multiplayer games to require a recurring payment that YOU are responsible for cancelling. Make sure that if you are not going to be playing the game that you cancel your subscription.
Many video games have content geared toward a mature audience. Like movies, videogames follow a rating system that will help you choose the content you are looking for.
The people you chat with and play games with are still strangers. Don't share personal information with them no matter what they say.
A person's virtual character (a character they have created to use in the game) is not going to be indicative towards who that person is. Don't assume that a female character in a game is played by a woman, or a male character is a man.
Be respectful – your actions are usually monitored when playing a game online. You can be easily identified and if your actions are serious enough, you can be charged by local authorities for obscene behaviour (i.e. threats, harassment)
If you are being harassed, learn how to block these people. Report any harassment to a family member or someone who can help you report the harassment to the appropriate person.
For some people online gaming can become an addiction. If you are playing more than a few hours a day, and playing every single day you might be heading towards something that is dangerous for you. Now would be a good time to talk to that person you trust. Together you should be able to plan out how you can continue to have fun with online gaming but make sure it is not getting out of control.
Take a ten minute break every hour to stretch your legs and clear your mind.
Caregiver / Professional tip:
If you see that the individual is spending too much time in the gaming or virtual life, talk to him/her about real vs. imaginary life. To make the difference between the two more concrete, use real situations in the individual's life. The goal would be to create a plan that includes expanding real life experiences and putting some limits on time spent online.