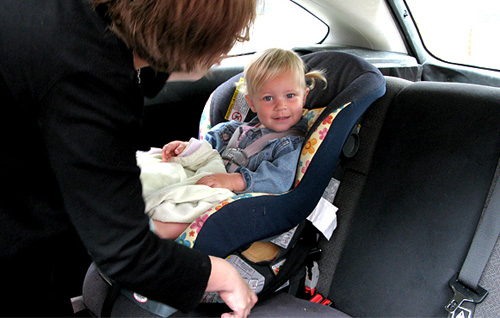 Children are the most precious cargo we carry in our vehicle. Travelling with children requires some planning ahead for safety and comfort. Families who have children with special needs can spend even more time travelling to appointments. Whether you live in the city or the country, doctor's appointments can be quite a distance from home. These trips can be by car, taxi, train, horse & buggy, boat or plane. Whichever way you travel, making trips safe & fun is in everyone's best interest.
A few Basic Travel Rules go a long way towards happiness & safety:
Everyone in the vehicle must buckle up properly. Stay buckled.
Use an inside voice. Speak, sing or hum softly. The driver must concentrate to drive.
Keep feet still. Happy little wiggly feet are okay, but kicking feet are a distraction for the driver and could cause an accident.
Keep hands to yourself. They fit very nicely on your lap.
Ideas for making safe travel fun:
Singing with your child is a great way to spend time together. Singing is a simple, fun way to pass the time of travelling and waiting. It exercises the muscles around mouth & lungs, expands vocabulary and encourages a love of music. Best of all, no extra equipment is ever required! Here are a few travelling songs to start your own list of family favourites:
Wheels on the Bus
Old MacDonald Had a Farm
Eensy Weensy Spider
Check at your local library or online for the words of these and other children's songs.
Make up your own words to a tune you already know. It could be about going to the appointment or about your child's favourite activity. Be creative and have fun!
Travelling Games:
I Spy – "I Spy with my Little Eye, something that is…" eg. round or blue. Give one clue at a time. The other person tries to guess what it is. When he/ she guesses correctly, switch and the other person says "I Spy with my Little Eye, something that is…"
Guessing Game – "I'm thinking of an animal that has…" eg. 4 legs and a bushy tail. After each guess, the first person can add more clues. Switch when they get the right answer. You may want to try other categories such as numbers, people, places or vehicles.
Find the Alphabet – Find the letters of the alphabet on road signs, license plates, etc. Start with A and see how far you can get. Sing the Alphabet Song each time to help younger children learn the alphabet.
Find the Numbers – Find numbers on signs, license plates, etc. for younger children. Older children can start at 1 and work upwards.
Travelling Games that require materials/equipment:
Colouring Pages or Colouring Books with pencil crayons/crayons. Be sure to gather up all the crayons when you're done as they will melt in the hot car on a sunny day.
A Pad of Paper can be used different ways; printing, drawing, paper folding, a roadway/ racetrack drawn for cars & trucks, paper dolls, tic tac toe, hangman, connect the dots, etc.
String Games – Do you remember Cats in the Cradle string games? Look in your local library or online to refresh your memory.
Make a Social Story – A Trip to the Doctor's- include pictures of what they will see/do on the trip or when they arrive at the doctor's
Travel Bingo is similar to traditional Bingo and uses pictures of things seen while travelling, eg. cow, tractor, tanker truck, fire engine, dog, stop sign, baby in a stroller, bicycle, swimming pool, playground, a certain chain of restaurant.
Flash Cards for Spelling, Math, Science, the colour wheel and other fun topics. Use recipe cards or boxboard to make your own.
Magnetic Board Games – Tic tac toe, Score Four, Checkers and others
Make a travel bag or bin of activity books, quiet toys, small games, puzzles, small photo albums, puppets or dolls that can stay in the car.
Make different theme bags, one for each child traveling with you. During the trip, trade bags every so often to keep kids happy.
Tips for Parents
Bring your child's favourite cuddly toy or comfort blanket along for the trip. This would not be a good time to wean him/ her from the soother. If you have a personal listening device or portable DVD player, allow your child to enjoy their favourite songs or movies. Bring your own drinks & snacks to satisfy hunger when it's difficult to stop for food. Food in your stomach and a view out the front of the vehicle, where possible, can help reduce car sickness.
For children who have visual sensory issues, travelling can be difficult because looking out the side windows can be overwhelming. Place a window screen/ blind beside your child to block out the world that is whizzing by.
Prepare your child for first-time experiences. If they will be flying in an airplane for the first time, read books about airplanes. Talk about everything from airport security to waiting times and strange noises.
Inquire at your local Board of Health about child car seat safety. Information on choosing the right car seat for your child in Ontario: www.mto.gov.on.ca/english/safety/carseat/choose.shtml
Sometimes, travel means you will not be in your own vehicle. Your child must be properly secured in an approved car seat that meets safety standards. This includes when you are travelling to another country. Do your research ahead of time. Does your child seat meet the regulations of the country you will be travelling to? If so, does it make more sense to rent the appropriate car seat when booking a car rental or bring your own child car seat through the airport?
A newer law to be aware of relates to smoking. In Ontario, as of January 21, 2009, it is against the law to smoke or have lit tobacco in a motor vehicle while children (under 16 years old) are passengers. Drivers and passengers in Ontario who break the law could be fined up to $250 for each offence. Studies are now showing harmful effects on pets, as well. Check the local laws in the area you will be travelling to.