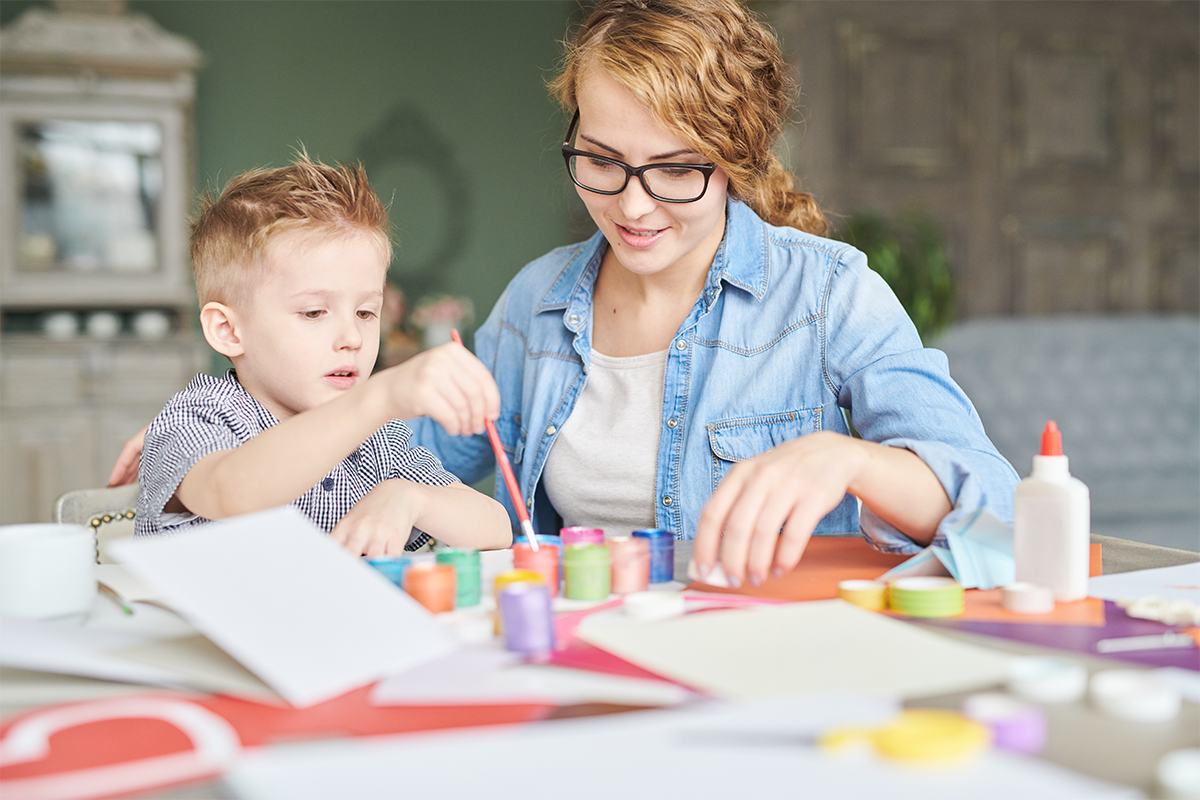 Creating and using powerful teaching tools for the development of language, social, motor, sensory, and cognitive skills.
Every Toy Has A Number of Teaching Tips, in Five Distinct Areas
Language
Language development has two main parts: receptive and expressive
Receptive language is the understanding of language. Example: If you ask your child "Where's the ball?" and she looks at the ball. She has received and understood your message.
Expressive language is communication, using language to express thoughts. Most people use a combination of speech, written symbols or pictures and gestures for communicating.
Social
Social skills are life long "people skills" that focus on learning appropriate ways to interact with, and to respond to, others.
Before being able to do this, children must learn to view themselves as individuals who are separate from others.
Motor
Motor skills fall into two basic groups: fine and gross motor.
They allow children to explore and manipulate their environments.
Gross motor involves large muscles such as those in your arms, legs and stomach.
Fine motor skills use smaller muscles such as those in your eyes, mouth, hands and face.
Cognitive
Cognitive refers to the ability to understand concepts, pay attention, reason and remember. These skills help your child to understand and organize the world.
Sensory
Our senses include vision, hearing, touch, taste and smell.
These are used to give information about our bodies and the environment.
The largest sensory system, touch (tactile), is responsible for receiving critical information about texture, temperature, touch pressure as well as pain.
Toys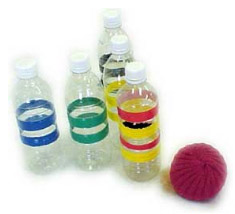 This is a great way to teach turn taking, and it sure can promote physical activity!
Materials
One litre clear plastic bottles, coloured plastic tape.
If you want to make a ball, you'll need a sock, some lentils, and a needle and thread.
Step-by-Step
Ring 5-10 clear plastic bottles with coloured plastic (PCV) tape.
Pour one cup of lentils into the sock. Shake lentils to the bottom. Twist sock tightly just above the lentils.
Holding the twist, sheath the top back over the filled portion of the sock. Repeat twist and sheath until ball is formed. Sew top closed.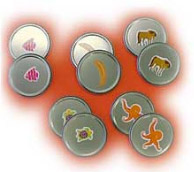 You'll be surprised at how many times you come back to this game. It fits a wide range of purposes, and its as challenging as you want to make it!
Materials
Lids from frozen juice containers
Stickers
magazine photos
colouring book shapes
textured materials
glue
Success is in gathering the pictures.
Draw and glue letters for letter recognition.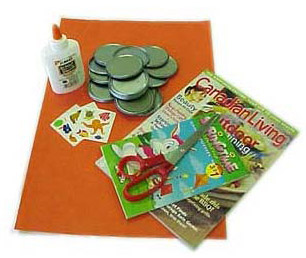 Step-by-Step
Grab your camera (make two prints of great photos) and teach toilet training (pictures of toilet, paper, flush, etc.) or use photos of facial expressions to teach emotions (happy, sad, mad, frightened).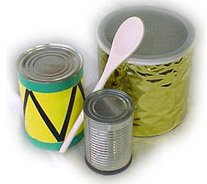 Improve your child's sense of rhythm, increase appreciation of movement and music, enhance language and social skills.
Materials
coffee tins or metal cans
shiny wrapping paper
construction paper
tape or glue
scissors
Step-by-step
Decorate drums using shiny paper or coloured plastic (PVC) tape.
Glue different materials around some drums to provide tactile stimulation (sandpaper, bubble-wrap, corrugated cardboard).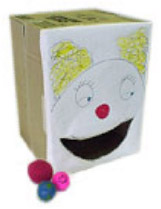 Learning to aim and throw.
Materials
Large box
White shelf paper (similar)
Markers/crayons/paint
Exacto-knife
Masking tape
Glue
Step-by-step
Draw a face on the paper to fit the box. Tape it to the box with masking tape.
Using the knife cut the opening for the mouth. Tape around the mouth to reinforce the opening.
Decorate with markers/crayons/paint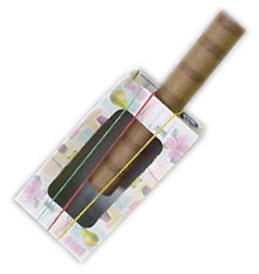 Strumming on the guitar stimulates the senses, refines fine motor skills, and builds appreciation for music.
Materials
Kleenex box
paper towel roll
Elastic bands
Exacto-knife
Tape
Step-by-step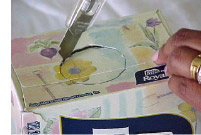 On one end of the Kleenex box, trace around the end of the empty paper towel roll.
Cut a hole in the box
Inert the towel tube into the opening. Stretch elastics. Tape elastics at bottom of the box.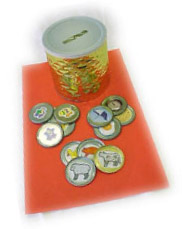 Simple to make, simple to use, juice lid games are as powerful as they are simple.
Materials
Lids from frozen juice containers
Containers with lids
Stickers
Magazine photos
Photos
Colouring book shapes
"Mactac"
Glue
Scissors
Exacto-knife
Step-by-step
Cut out slits in container covers wide for beginners.
What do you want to work on? Glue pictures, drawings, shapes on each lid.
Use clear adhesive shelf liner over pictures for durability.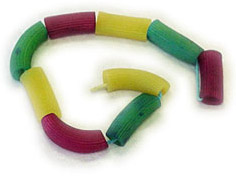 A simple game that requires your child to use both hands cooperatively, encouraging good hand/eye coordination.
Materials
Noodles
Spools
Pipe cleaners
Yarn
Shoe laces
String
Food colouring
Masking tape
Step-by-step
Place slightly damp noodles into a zip lock bag add food colouring and shake.
Wrap end with masking tape.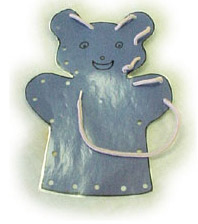 Fun to do, and a powerful tool to teach the concept of "finishing" before moving on the next activity.
Materials
Construction paper
Marker
Crayons
Hole punch
Scissors
Mactac
Shoelaces or pipe cleaners or yarn
Step-by-step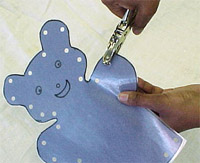 Draw a character or use large photos or colouring book art cut out. Apply "mactac" to both sides. Cut out.
Punch holes around the edge.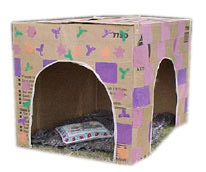 A fun way to help children understand daily routines and situations.
Materials
Large box
Paint
Exacto-knife
Brushes
Sponge blocks
Masking Tape
Marker
Step-by-step
Draw arch shaped doors on two sides of the box. Cut the openings for doors using an exacto-knife. Draw a window on one side and cut out.
Tape around the openings. Decorate using paints with brushes and sponge blocks.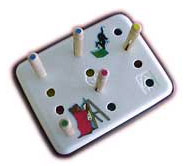 Making a Peg Board is an hour invested in lifelong motor and cognitive skills.
Materials
Cardboard
Coloured tape
Round clothes pins
Pick up a new Styrofoam meat tray in various sizes from your supermarket.
Step-by-step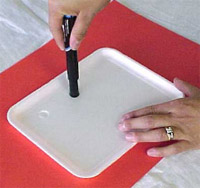 Pressure mark lines of holes on the tray with the top of a marker pen. Cut out with an exacto-knife.
Place the tray over a larger piece of cardboard. Tape lightly at corners to hold in place. Trace lines of holes onto cardboard. Trace tray shape onto cardboard and cut out.
Cover lines or holes drawn on cardboard with strips of coloured tape. Secure tray to cardboard with tape around edges and decorate.
Add colour to the tops of clothes pegs matching the tape used on the cardboard.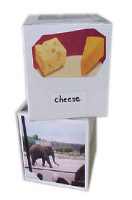 This is a wonderful toy, and a powerful teaching tool. It can be used to increase language skills, encourage communication and socialization, and develop cognitive abilities.
Materials
Cube box (3" to 4")
Photos of familiar people, food, events
Labels
Mactac, glue
Step-by-step

Glue top and bottom of the box together if necessary. Glue photos to all sides.
Label photos using lower case letters.
Cut and apply mactac to all sides.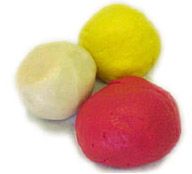 Making play cookies and pizza promotes fine motor skills.
Materials
1 cup of flour
1/2 cup salt
2 teaspoons cream of tartar
7/8 cup of boiling water
4 teaspoons of vegetable oil
Food colouring
Add something smelly, like vanilla or coffee
Add some glitter
Step-by-step
Mix flour, salt, cream of tartar. Gradually add boiling water and add food colouring and oil.
Knead the dough until smooth. Add water or flour for consistency. Store in an air tight container.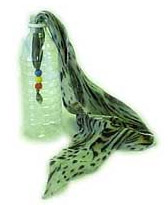 If refining your child's fine motor skills is a high priority, this is a wonderful activity.
Materials
A scarf
A clear plastic water bottle
Beads with large holes OR if your child puts things in their mouth use clothes pegs or spools.
Step-by-step
It's important to remember for some children beads are a choking hazard.
Instead of beads, you can clip a clothespin on the end of the scarf.
It works the same way.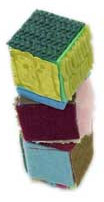 Increase sensory awareness develop fine motor skills.
Materials
Foam blocks
All purpose glue
Lots of textured stuff:

Foil paper
Scouring pads
Pasta
Sandpaper
Bubble wrap
Fur fabric
Beans
Cotton balls
Pipe cleaners
Non-slip pads
Step-by-step
Trace around blocks on textured materials and cut to size.
Apply glue to blocks.
Press materials onto surface set aside to dry.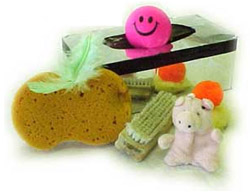 Stimulate the senses. Promote hand/eye coordination. Fun to make!
Materials
Empty Kleenex box
Textured materials

Brush
Feather
Sponge
Fur fabric
Step-by-step
You'll want to reinforce the opening of the box with masking tape.
Cut textured materials into pieces of various sizes and shapes.
Be on the lookout for new materials.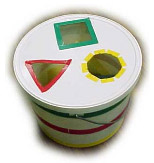 Encourage socialization.
Promote motor and cognitive skills.
Materials
Container
Knife
Marker
Decoration items
Sorting "shapes" form around the house
Step-by-step
Trace shapes gathered from around the house on lid.
Cut and outline.
Decorating Tips.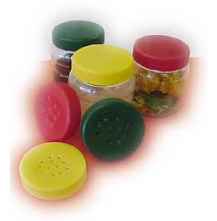 Enhancing sense of smell.
Materials
Plastic jars with lids,
Film canisters
Stuff that smells

Coffee
Jell-o powder
Pot pourri
Cinnamon sticks
Lemon grass
Vanilla beans
Cardamom pods
Chocolate
Hay
Step-by-step
Punch holes in the lids. Use coarse smelly materials to prevent leaking.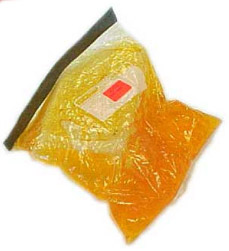 Simple sensory experience.
Materials
Duct tape
Heavy-duty freezer bag
Hair gel OR

Jello
Play dough
Shaving cream
Whipped cream
Cornstarch and water
Pudding
Step-by-step
Fill heavy-duty freezer bag with gel, close the bag and seal with duct tape.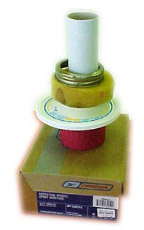 Hand/eye coordination motor development and problem solving.
Materials
Paint (and paint brush)
Small, sturdy box
Paper towel roll
Rings from sponges
Empty masking tape rolls
Cut-out container lids
Preserving jar lids
Step-by-step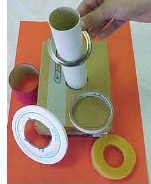 Trace around the paper towel roll in the middle of the top of the box.
Cut out the hole and tape the box top to the box. Insert the paper towel roll.
Decorate if you wish.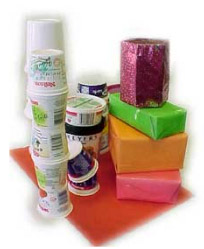 Powerful problem solving.
Materials
Plastic containers of various sizes (with lids)
Boxes
Wrapping paper paints to decorate
Step-by-step
The secret is being always on the lookout for a wide variety of container sizes, and keeping the toy together in a box.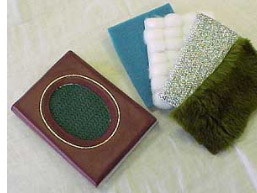 Lots of sensory stimulation
Materials
Photo album
Textured stuff

Fur fabric
Cotton balls
Sponges
Scouring pads
Non-slip pads
Foil
Sand paper
Bubble wrap
Step-by-step
Cut textured materials to fit pages and insert.
Place cardboard between material and plastic. Cut opening to allow material to be touched.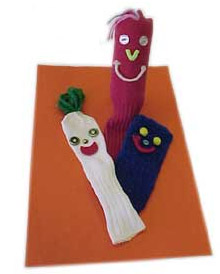 Puppets teach creative and imaginative play.
Materials
You'll need some glue
Pipe cleaners
Needles and thread
Socks
Buttons (don't use buttons if your child "mouths" things)
Step-by-step
Draw facial features on the sock.
Glue or sew yarn as hair. Sew pipe cleaners as nose and mouth. Sew (strongly attach) buttons as eyes.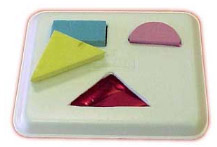 Powerful problem solving!
Materials
Styrofoam meat tray (new from grocery store)
Hard sponges
Coloured paper
Cardboard
Marker (pen)
Knife
Scissors
Glue
Step-by-step
Draw and cut out sponge shapes.
Trace and cut out shapes in tray.
Trace tray on cardboard, cut out glue coloured paper to cardboard and tape cardboard backing to tray.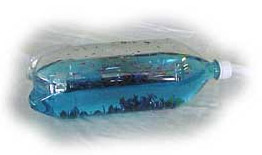 How a plastic bottle and coloured water can help teach language, motor coordination and cognitive skills. Neat.
Materials
Large plastic bottle
Sparkles
Marbles
Beads
Soap
Oil
Ribbon
Food colouring
Step-by-step
Fill 2-litre bottle 2/3 with water. Add food colouring. Add marbles. Blue the top of the bottle to prevent spilling.
Toy Shop as written and produced by Fatima Kediye, Raffi Marinuzzo and Margaret Howard of the Early Childhood Services Team at Community Living Toronto.