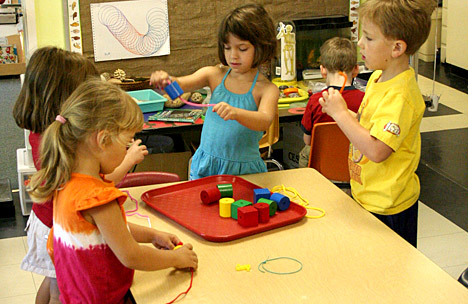 Self-esteem is defined as feelings of self-worth, self-confidence and self-respect. Children with low self-esteem often can feel powerless, lonely, resentful, defensive and easily frustrated. These feelings can lead to aggressive, teasing and bullying behaviour. Children with high self-esteem are proud of themselves, assume responsibility for their own actions and deal with frustration well.
Helping children in your classroom with low self-esteem to develop feelings of self-worth and self-respect not only benefits them individually, but can help to prevent aggression and bullying in your program. There are a variety of programming activities and resources to use in your program that can foster children's self-esteem.
Always include cooperative, nurturing games in your curriculum. Include these activities throughout the day. Initially, the activities could be introduced at circle time or in large group activities with all the children. Then some of these activities could be used in a small group. A teacher must always facilitate the activities. Activity examples are: Simon Says (where Simon focuses on what children like to do, eat, etc.). For example, "Simon Says, if you like soccer, touch your nose" (no tricks are involved in this game), "We are Special Chant", Paper Punch/Basket Ball Throw, Tower of Hands.
Include creative activities to build self-esteem in your curriculum. Have each child create a "My Family Book", a book about themselves and their family (they can draw, use photographs, etc.). They can then present their story to the group. Create Scrapbooks with the children. Have children create scrapbooks about the events in their lives, including daycare, school and other situations. Each month, the children can create one page and share it with the group before putting it in the scrapbook. On their birthday, each child can present the scrapbook they have created so far to their class and discuss it.
Create "My Tree/My Hand Activities". The "My Tree" activity can be done individually or as a group tree. For the individual tree, each child has 5-6 leaves on which to write/draw something about themselves. Then they glue each leaf on their tree. If it is a group tree, each child does one leaf about themselves and then, the leaves are all put on the tree. For "My Hand" each child traces her hand and writes something about herself on each finger. Both these activities should be put up in the classroom upon completion.
Use beads to have children make bracelets or necklaces. Each bead should represent something they like about themselves. Then, they can each talk to the group about their bracelet or necklace and the significance of the beads.
Have each child create stories about themselves to read to group. Each child can create an "I am Special Book" and an "If I were a Superhero Book" to focus on things they like about themselves and their strengths. Each child then has a turn reading it to the group if they are comfortable.
Use worksheets or provide cutting and pasting activities such as: "Things I like to do", "Things I am Good at," to reinforce strengths and to help build individual self-esteem.
As a group create a "Hair Colour/Eye Colour Chart" and a "What I Like to Do" chart. Talk about the charts with the children and let each child talk about their own hair/eye colour and the activities they enjoy.
Use scripted role plays with puppets, or the children themselves, to develop feelings of self-esteem by brainstorming ideas about what to do when children feel sad about themselves.
As a group, create a self-esteem puzzle or quilt. Have each child make a puzzle piece or quilt piece (can be made from construction paper) to add to the group puzzle or quilt. The piece must depict things they like to do. Then, put the group puzzle or quilt on the wall and discuss it.
Use books to develop self-esteem. As a group, write a social story about feeling good about yourself. Each child could create a page. Read your class books to develop self-esteem. For example, "The Best Me I Can Be" series by David Parker (Scholastic) has good stories. "Don't Feed the Monster on Tuesdays" by Adolph Moser, and "The Incredible You!:10 Ways to be Happy, Inside and Out" by Dr. Wayne W. Dyer, are some other examples.
Help the children to learn appropriate outlets for anger and impulsive behaviour by using books, role plays and activities (see Anger Component for detailed suggestions). Help children learn to recognize signs of anger/agitation and find ways to deal with these emotional responses. Poor self-esteem will often develop when children engage in inappropriate behaviour and are constantly in trouble. By giving the children tools to deal with anger and aggression, you will help them to feel in control and more positive. They will also receive less negative attention in the classroom as their behaviours grow more appropriate.
Finally, give children in the group responsibility and leadership roles when possible. Responsibility and leadership will help children to develop feelings of self-worth and self-esteem. Have children be responsible for chores in the classroom (these can be rotated). Also give children a chance to be the leader during circle activities such as: Cooperative Simon Says Games, Patterning Games, Freeze Dance Games.