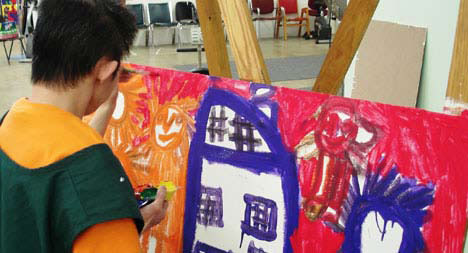 High school is more than just about attending classes. It is also about exploring your interests, developing skills, establishing social relationships (independent of your family circle) and having fun! Activities and experiences at this time can help us figure out what we would like to do after high school and, they teach us to balance what we like to do and what we must do, in our daily lives.
You would typically do this through recreational, camps and volunteer activities. Some of these will occur during the school day; others will happen outside of school.
Inside school:
Check out the extra-curricular activities offered in the school. Intramural sports activities, use of fitness equipment, clubs (such as drama, chess, or photography), choirs, bands, yearbook and newspaper committees, all offer opportunities to pursue interests and make friends. What activities are you interested in? What will fit into your schedule? Are you interested in competing or just having fun? Once you answer these questions, plan to attend a session or two to see if it is what you had in mind. Remember: high schools often offer activities that will be new to you. (i.e.: football) Intramural clubs are great places to learn and the coaches expect to do some teaching and mentoring. That is how they build their teams/clubs for future years. Some schools offer peer- mentors, if you need extra support. Speak to your Guidance Counsellor for advice.
Many school departments use volunteers. For example: the library may use student helpers to re-shelve books, teachers use students as "office assistants" on parent nights, the drama club uses volunteers to help paint sets and there is often, a "stage crew", to set up the stage for assemblies. Talk to teachers about opportunities or visit your Guidance Counsellor. Some activities will be ongoing while others are a one-time event.
Paid work in schools is limited but, the cafeteria, office or gym coach might offer positions.
Outside of school:
Recreation:
Community and recreation centres offer a wide variety of activities. You can find everything from swimming lessons to woodworking classes. They usually produce a calendar of events organized around the school year and offer activities based on age/experience. Check schedules to determine when the activities you are interested in are offered. Take note of registration dates and fee schedules. Many offer reduced fees for families on tight budgets. Municipal departments such as Parks and Recreation will have information but often, walking to the centre and asking staff, is the easiest way to check out activities available locally.
Boards of Education often offer interest courses such as dance, crafts, cooking and mechanics. These are usually offered at night time. Calendars are often organized around the school year. Fee schedules are published.
Public libraries often offer workshops, movie nights or lectures. Check out the website or visit your local library. They will have their calendars and often, those for other local libraries.
Many cities will have bulletin boards or websites announcing events around the city such as winter festivals, theatre in the park, neighbourhood festivals and public meetings. On the internet, searching for events + your city will often give you a list of what's happening in your area.
Locally, you should look for private organizations. Religious institutions might have youth groups, choirs or study groups. Cultural groups may have language or dance classes and community gatherings. Theatre groups will post a play schedule. Sports clubs, private dance, yoga classes, fitness clubs and pottery centres are just a few of the activities found in the private sector. Your local newspaper or telephone directory will provide contact information and many now will have a website.
Camps
Do not overlook the offerings of camp programs in the 21st century! Summer camp, March break and even December camps can offer exposure to new skills or enrichment of current talents! Traditional camps offer a mixed experience of boating, swimming, arts and crafts and survival skills but there are so many more options! Computer camp, sports camp, dance camp, circus camp, sailing camp, digital photography camp are just a few of the choices to be found. Many of these camps are designed for the young teen set (under age 16) and many also offer opportunities for Counsellors-in- Training, for those looking for leadership experience. Whether you wish to be a camper or a leader, opportunities are out there! Determine your budget, your desire for residential or day camp, and your interests and get searching! On the internet summer camp+your province, will get you started. All camps offer opportunities for lasting friendships and great memories.

Volunteering
Volunteer involvement strengthens communities and is mutually beneficial to the volunteer, the organization they support and the community. The volunteer develops skills and contributes to the community. Volunteers improve the capacity of the organization to realize its mission. When you volunteer, you should choose your activity carefully! Are you wishing to learn something? Gain experience for your resume? Share a talent you have? Have fun? You will be asked to make a commitment. The organization will allocate resources to train and support you.
To find a volunteer position, consider charities and non-profit organizations local to you. Organizations like hospitals, service clubs and museums are good places to start. If you do not know of any, try to find your local volunteer centre. On the internet, a search for volunteer + your city often gets you a list. They will have information of current positions.
These are just some ways that you can start to develop a balanced life. This helps you to build connections and relationships, as well as varied skills and abilities through different activities.