"I wanna stay!" I'm sure you have heard your child shout this when he is told that it is time to leave the playground to go home or back inside into the classroom. For many children, routines and structure are important because they provide a sense of security. For some, even slight changes in their usual routine can be highly upsetting. As a parent, teacher or early childhood professional, preparing your child for transitions and having consistent routines will help him cope with change.
Your child may have difficulty making transitions for many reasons. Here are some examples:
Change is unexpected. It is raining so Billy cannot visit the playground as planned.
Current activity is enjoyable. Mila loves playing on the computer. She does not want to stop and eat.
Dislike or fear of the next activity. Gareth does not like swimming. He does not want to get ready for his swimming lesson.
Next activity is enjoyable. Carmen can't wait to go to the park. She leaves the table before lunch is finished.
There are two main types of transitions:
DailyMajor transitions during the day for young children usually involve sleep and mealtimes or change in environment/location such as:

From one activity to another
Indoor to outdoor play
Daycare to home

LifeThese are transitions that occur once in a while such as starting a new job, having a baby, or moving. Children need extra care and attention during these times because change can be upsetting and frightening to them. For example, at daycare a child may be moving into another classroom with a new teacher and new children or a child moving to a different house.
Strategies to help your child make transitions
Preparing your child for transitions and changes is very important. The following ideas may help your child have positive and successful experiences:
Provide verbal warnings
Give your child a warning that a transition is about to occur. You can do this by saying, "It's almost time for lunch". You can make this concrete by setting a timer or counting down from ten after you give the warning. When the buzzer goes off, or you reach zero, begin the transition. When first trying this strategy you may have to help your child through transitions, or guide him to the next activity or task.
Fidget Toys
If your child is finished with an activity but needs to wait for another one to begin, playing with a fidget toy (e.g., squishy ball) can help him keep busy. Depending on the situation, you may need to make sure that the fidget toy does not make noise and that your child is able to keep it in his hands or pocket.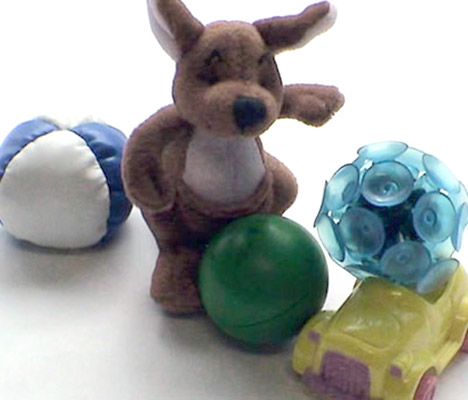 Transition Objects
Try using an object to signal that a new activity is about to begin. For example, if your child is playing and it is almost time for lunch, you can prepare him by giving him a cup. Allow him to play for a few minutes and then encourage him to bring the cup with him to the table.
Music
Songs are a fun way to signal that the current activity is about to end and a new one will be beginning. They help your child learn routines and improve his language and memory skills. Try using the same tune and changing the words for different activities. This will make it easier for your child to remember the song and join in the singing. You can learn some transition songs by visiting the Music Workshop.
Lighting
When it is time to stop playing and get ready for the next activity, you might turn the lights off and get your child's attention by saying, "Put your hands on your head." Once you have his attention, you might begin the transition by singing, "It's time to tidy up. Tidy up. It's time to tidy up! Right now, right now." The song could be followed by two handclaps before turning the lights back on and you and your child/children children start to tidy up. This combination of strategies works because gestures and songs catch children's attention.
Visual Schedule
Using objects, photos, or pictures to show your child the order of activities that are planned can help him understand what is going to happen next. Here is an example of a visual activity schedule.
You can create your own visual schedules using photographs, pictures from magazines, or the Visuals Engine on this site. When you first start using a visual schedule, include two or three transitions. Gradually add more, up to a maximum of six or seven pictures in one schedule.
To help your child understand when an activity is finished, you can attach pictures to a piece of bristol board using tape or velcro (this can be purchased in the arts/crafts department), as in the example above. As each activity is finished, your child can remove it from the schedule and put it in a small box labeled "finished".
Visual Count Down
This strategy is helpful if you want your child to focus on one activity until it is time for the next. It can show him that time is passing and praise him for remaining focused. Every few minutes you can remove a panel. When the rocket appears, it is time to "blast off" to the next activity.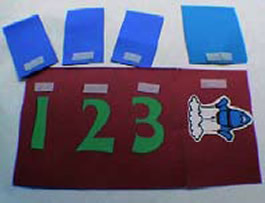 You can make your own visual count down by taking a large piece of bristol board and writing the numbers one to three on it. Instead of a rocket ship, you can draw, or glue a picture of your child's favourite cartoon character. Cover each number and the rocket ship with a coloured piece of construction paper. Attach the pieces to the bristol board with tape or velcro.
Tips for Parents on preparing your child for a new setting
Starting school, going to the doctor or the first day at a child care program is a major transition for you and your child. Here are a few suggestions you can try.
Drive, walk, or take public transportation to the new setting together.
Meet with your child's teacher(s), the school principal or vice-principal, or the centre supervisor.
Take your child on a tour of the new setting. Introduce him to the people he is going to meet. Show him where to find the washrooms.
Take a photo of the new setting and the people. Make a picture book with the photos to read together.
Preparing for transitions helps your child understand changes to routines or what activity is coming next. It can also help prevent problem behaviour, such as your child having a tantrum because it's suddenly time to go home. Remember that you can also combine several strategies to help your child and praise him for following through with transitions.