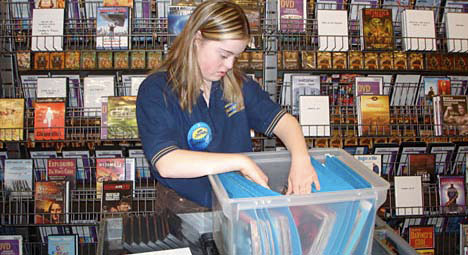 Gaining work experience is a great way for someone to explore occupations that might interest them in the future. (Working is also a great way for someone to figure out what they DO NOT want to do!)
For people just beginning to think about life after school, after school or weekend jobs are the most likely place they will start. They might be limited in their choices by the opportunities available, but remember, even if a job does not sound like exactly what a person wants to do, it might be useful in learning some skills that will give them more qualifications in the future.
Resume:
To begin, a person should have a resume to give to employers. A school guidance counsellor should be able to help them with this. If the person is not in school, there are many community resources that can help. Start by checking on the internet or at your local library for advice.
In every resume it is important to include all their work experience. They may not have had a "regular job" before but things like grass cutting, snow shoveling, dog walking and errands for neighbours will demonstrate that they can work independently and are motivated! Don't forget to include the skills gained through extra-curricular activities. That talent and an employer's need just might overlap!
Remember to always update their resume when their contact information changes, as well as each time they start (or finish) a new job.
Consider qualifications they could get to increase their chances such as baby sitting certificates, first aid training, or swimming medallions. They will want to include any awards or proof of their skills on their resume.
The Job Search
When looking for a job, there are several places that will have postings. Checking the classified section of a local newspaper for listings (or even contacting the paper about obtaining a paper route) could help someone on the way to obtaining a job. Checking bulletin boards at local recreation centres, supermarkets and libraries could lead to cleaning, baby sitting, lawn care, or other employment opportunities close to home.
Government employment centres will have job postings too. In Canada, HRSDC even offers access to their job bank online. (See: https://www.jobbank.gc.ca/home. The internet offers a lot of other opportunities to find work. Consider checking websites of government departments such as Parks and Recreation or a local municipality website. Both the Government of Canada and Ontario websites have a job opportunities section and even have a "youth jobs" category. Take a look for websites of local businesses as well as Chambers of Commerce. They might post opportunities, usually listed under categories such as "job opportunities" or "human resources".
If a person is enjoying their current volunteer or co-op placement, check with the people who set up the placement to learn about opportunities there. Sometimes employers are more than happy to begin paying people for their work. Employers do expect to get a return for their money, and working comes with the expectation of independence on the job, as well as the higher level of responsibilities common to all paid employees that might not be expected in co-op and volunteer placements.
Sometimes finding a new employment opportunity is as simple as taking a walk. Look for "Position Available", "Help Wanted" or "Now Hiring" signs, posted at local businesses. If a person is interested in working for a specific company, they can often pick up an application at the Customer Service desk (take two if you can, just in case you make a mistake!). Even if the company does not have a position at the moment, many stores keep applications on file for a while.
Finally, never be afraid to network. Ask everyone you know (friends, family members, teachers, support staff, co-workers) about what they do for a living, and if there are opportunities available in their workplace. Sometimes jobs aren't obvious, but every work place has needs to be filled. Let people know that you are looking to develop an employment opportunity and ask them to keep you in mind the next time they go to work.
As you can see, job opportunities are readily available however it is also important to remember that a person's first job is likely not where they will spend the rest of their lives. The experiences and skills they learn will carry over into future job opportunities. Being flexible early on may lead to the ideal job down the road, so keep an open mind when trying to obtain employment.