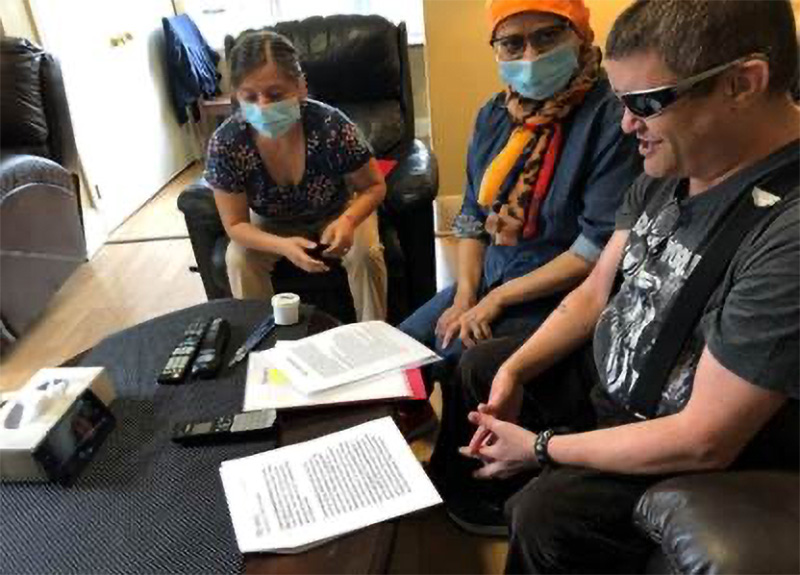 What is Person Directed Planning?
Person-directed planning helps you think about the life you want and your future.
With the help of a facilitator, it is a process which:
Is directed by you
Supports you to make a plan for the best possible quality of life where you live, work and spend time
Identifies and strengthens your personal support network
Supports you to be involved in your community
Helps you develop goals and determine who will help you reach your goals
Identifies all informal and formal supports and services needed
creates a living document that should be reviewed at least once per year and changed as required.
The Person Directed Planning Process
Taking the time and effort to plan out what the process will look like is a great strategy for setting the stage for successful interactions and excellent outcomes. A planning facilitator will become more comfortable interacting with you and your network if the necessary time has been taken to be well prepared. In the beginning, the facilitator guides the planning process and is then guided by you and your network.
The Person Directed Person Process
Voice: Avoiding the Temptation to Silence, Promoting the Need to Listen
Voice is a critical part of supporting people with disabilities. We have to understand what a voice is. It is more than the physical sound that people make. It is more than language. It is communication in whatever form that takes. Read more
Person Directed Planning Guide: Creating A Good Life in Community
This guide on Person-Directed Planning has been written to assist families and people with developmental disabilities to plan for their future. Person-directed Planning puts the person with a disability at the heart of important decisions that affect their life. Planning Guide – plain language version
---
Person Directed Planning and Facilitation
Person Directed Planning & Facilitation Guide , MCCSS 2013
This Guide is a first step in recording what the ministry has learned to-date about person-directed planning and facilitation in Ontario. Given that person-directed planning and facilitation is an emerging profession, it is a first effort to capture and record a vision of what good practice looks like in Ontario. As the profession and practice of person-directed planning and facilitation develops further, it is expected that the content of the Guide may shift and change over time.Person Directed Planning Guide
A Facilitators Guide to Person Directed Planning
This guide has been written to assist staff working in the developmental services sector and across other organizations in furthering their understanding of person directed planning and the role of the facilitator in the planning process. Guidance is provided on how to facilitate the development of a person directed plan and how to build capacity and commitment with a network of people supporting the person with the disability. Facilitators Guide to Person Directed Planning
---
Families For A Secure Future: Creative Housing Options
Families for a Secure Future is dedicated to serving adults with developmental disabilities and supporting them to become more engaged in directing their lives, making choices and taking up full citizenship in the community.
Tools & Resources
Helen Sanderson Associates
A great resource with information and tools. They know the power of person-centred practices – not just because they have made it their mission to help others to understand and use them, but because they use them in their own lives and in the way they work together as a team. http://helensandersonassociates.co.uk/ca/
Profile template: Helen Sanderson Associates suggest that you create a one-page Profile of who you are. "A One Page Profile captures all the important information about a person on a single sheet of paper under three simple headings: what people appreciate about me, what's important to me and how best to support me."
Person-centred planning / review preparation booklet helps team members prepare for the gathering. Whether they are going to be present at the review or have been asked to make a contribution, there are things that they will need to think about in advance. This booklet will help them to think about their contribution to the meeting. Person Centred Review Booklet
A Person-Centred Review uses person-centred thinking tools to explore what is happening from the person's perspective and from other people's perspectives. This results in outcomes and actions for person-centred change and ensures that a range of people are involved when the review is happening, and that their views and ideas are recorded in a structured, step-by-step way. Person-Centred Review
Person Directed Planning Resources (Toronto)
The following resources have been compiled for the purpose of facilitating research when exploring potential services, discovering new opportunities or browsing for ideas when planning. Some programs may have specific criteria or program requirements for admission.
Person Directed Planning Resources
Enabling Person Directed Planning for Augmentative & Alternative Communication Users
The Enabling Person-Directed Planning for AAC Users guidebook is designed to help persons who use augmentative and alternative communication take an active role in the person-directed planning process. The guidebook outlines a 5-phase process, based on established best-practices in AAC and transition planning for persons with disabilities, for developing partner communication strategies with planning recipients who use AAC. Read more
Toronto agencies offering free interpretation services
A list of community organizations in Toronto that offer interpretation services. Read more
Special Needs Planning Group
Special Needs Planning Group assists families in establishing plans which will provide their family members with a disability with a decent quality of life for their entire lifetime while at the same time, preserving their entitlement to government support programs. http://www.specialneedsplanning.ca
---
Other Planning Resources
Financial and Legal Issues Resources and information related to financial planning, ODSP, RDSP's, wills, trusts, power of attorneys and estate planning for individuals with disabilities and their families. Read more
Resource Directories Links to resource directories across Ontario Read more
Housing Options for living independently Read more
Community Participation Supports Community Participation Supports Information for adults with an intellectual disability in Ontario Read more
Employment Resources, tools supporting successful employment and the business case for hiring a person with a disability Read more