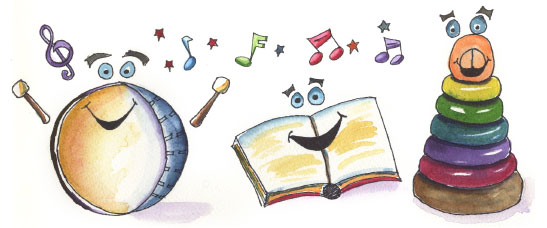 All songs, lyrics, a listing of props and sample audio of each song along with two informative tip sheets can be found below. The tip sheets, Introduction to Creative Circle Time and Infant Circle Tip Sheet provide you with information on how to set up and structure your music circles. The tip sheets are printable and can be easily shared with team members and parents.
ABC Song
ABC Song
Alice the Camel
Baby's Face
Bingo
Busy, Busy, Bumble Bee
Catch the Bubbles
Circle Round the Baby
Doggie Doggie
Down by the Corner
Down by the Bay
Duck, Duck, Goose
Eency Weency Spider
Family Horsie Ride
Feel the Water
Finger on Your Lip
Five Green and Speckled Frogs
Five Little Ducks
Five Little Monkeys Jumping on the Bed
Five Little Monkeys Swinging in a Tree
Go Bananas
Goodbye Song
Head and Shoulders
Here There and Everywhere
Hokey Pokey
Hooray Song
Hot Potato
Humpty Dumpty
Hurry, Hurry, Drive the Firetruck
I Have a Little Pony
I Hear Thunder
I'm a Little Teapot
If All the Raindrops
If You're Angry
If You're Happy and You Know It
Jack and Jill
Jelly in the Bowl
Little Mousie
Little Red Wagon
London Bridge
Make a Circle
Mary Had a Little Lamb
Mirror Song
Miss Polly Had a Dolly
Motor Boat
Mr. Sun
Musical Hula Hoops
My Dog Rags
My Hands
Oh Here We Are Together
Old MacDonald Had a Farm
One, Two, Three
One, Two, Three, Four, Five
Open Them, Shut Them
Popcorn, Popcorn
Put the Toy in the Bag
Reach Inside
Riding Along
Ring Around the Rosie
Roll the Ball
Roly Poly
Round and Round the Garden
Row Your Boat
Sandy Girl or Boy
Shake My Sillies Out
Shake Your Angries Out
Simon Says
Skip to My Lou
Sleeping Bunnies
Slowly, Slowly
Sticky, Sticky Bubble Gum
The Ants Go Marching
The Farmer in the Dell
The Good Morning Train
The More We Get Together
The Waves on the Sea
There was a Crocodile
This Little Piggy
This Old Man
Tickling Feather
Twinkle, Twinkle, Little Star
Way Up High in the Apple Tree
We Are Special
We're Going to Bang, Bang
Wheels on the Bus
When I Say
Where is Linda
Where is Thumbkin
Willoughby Wallaby Woo
Yankee Doodle
You're My Little Baby
Zoom, Zoom, Zoom
---
Acknowledgements
Community Living Toronto – Early Childhood Services greatly acknowledges the input of the entire department with a special contribution from:
Christie-Ann Brockest and Than Le – Committee Members – Vocals
Kelly Kearns and Cathy Kerr – Committee Members
Sabrina Luongo- Silva – Committee Member – Photographer
Special thanks to Don Kerr for his musical expertise and guidance as our accompanist and producer.